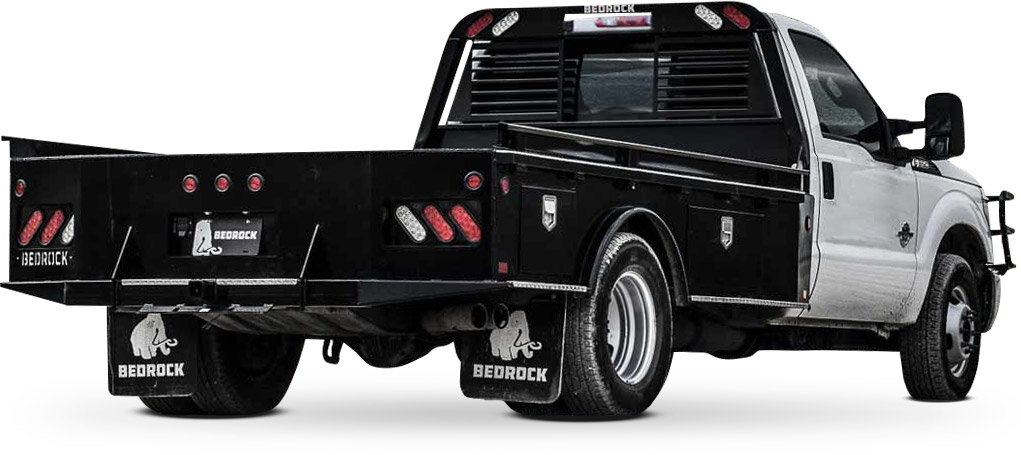 BEDROCK Truck Beds symbolize American quality, Texas pride, and the integrity of a small-town legacy. With a Texas rancher serving as our most thorough critic, not a single detail was overlooked in designing four truck bed series that would meet and exceed the expectations of our customers.
Interested in an estimate? Enter your contact and vehicle information.
One of our truck bed experts will contact you shortly with a no-obligation quote.
Free Estimate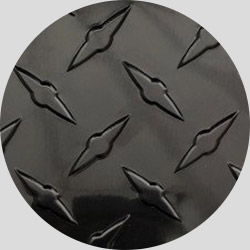 Powder Coat
Each truck bed is finished with a glossy polyester powder coat with industry-leading adhesion and longevity performance. Custom-formulated under impact and salt-spray testing, the BEDROCK powder coat offers superior corrosion and UV resistance.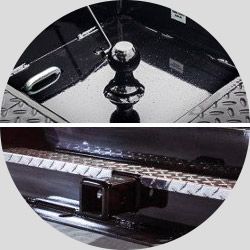 Heavy-Duty Hitches
Every BEDROCK truck bed comes equipped with both a 2" receiver hitch and a 2 5/16" gooseneck hitch. With ratings of 15,000 lbs and 25,000 lbs respectively, you'll be prepared to haul even the toughest loads.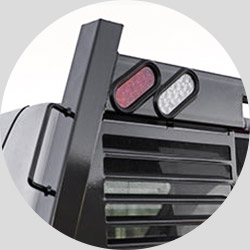 Headache Rack
Designed for optimal protection and visibility, the patent-pending adjustable BEDORCK headache rack fits all major truck makes, models and cab styles. Available in rounded or hauler style.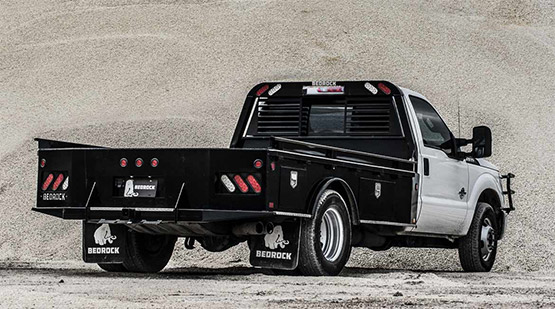 Granite Series
Available lengths 7' – 8'6" – 9'4" – 11'4"
Skirted bed with integrated toolboxes
Weatherproof toolboxes with stainless steel slam latches and locks
Aluminum diamond trim
1/8" diamond-plate deck with smooth back and sides
3/8" external rub rail with stake pockets
Glossy polyester powder coat
2" receiver hitch rated at 15,000 lbs
2 5/16" gooseneck hitch rated at 25,000 lbs
Adjustable headache rack with cargo light cutout
DOT-approved LED lighting
Sealed wiring harness
Bed Options:
Smooth-plate 10-gauge deck
Gooseneck trough
Hauler headache rack with vertical posts
Chrome fenders
3/16" diamond-plate deck
Square back bed
Factory gooseneck box (Ford 2017 only)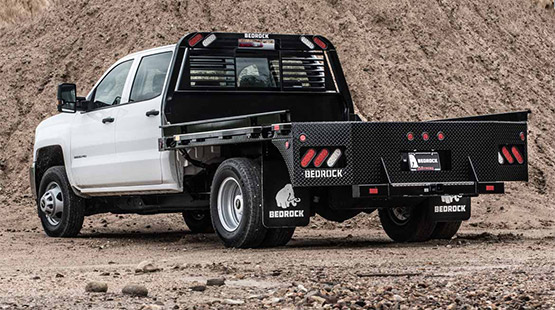 Diamond Series
Available lengths 7' – 8'6" – 9'4" – 11'4"
Non-skirted sides
1/8" diamond-plate deck with diamond-plate back and sides
3/8" external rub rail with stake pockets
Glossy polyester powder coat
2" receiver hitch rated at 15,000 lbs
2 5/16" gooseneck hitch rated at 25,000 lbs
Adjustable headache rack with cargo light cutout
DOT-approved LED lighting
Sealed wiring harness
Bed Options:
Smooth-plate 10-gauge deck
Gooseneck trough
Hauler headache rack with vertical posts
3/16" diamond-plate deck
Square back bed
Factory gooseneck box (Ford 2017 only)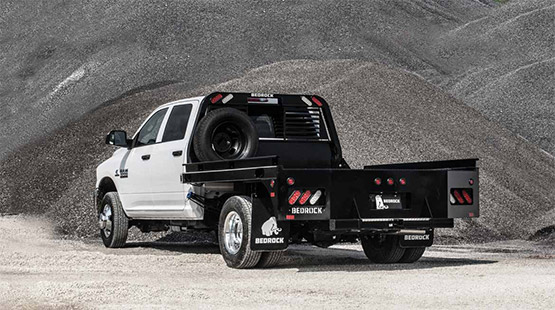 Slate Series
Available lengths 7' – 8'6" – 9'4" – 11'4"
Non-skirted sides
1/8" diamond-plate deck with smooth back and sides
Integrated tie down rails and stake pockets
Side rails rise 1 ¼" above deck
Glossy polyester powder coat
2" receiver hitch rated at 15,000 lbs
2 5/16" gooseneck hitch rated at 25,000 lbs
Adjustable headache rack with cargo light cutout
DOT-approved LED lighting
Sealed wiring harness
Bed Options:
Smooth-plate 10-gauge deck
Gooseneck trough
Hauler headache rack with vertical posts
3/16" diamond-plate deck
Square back bed
Factory gooseneck box (Ford 2017 only)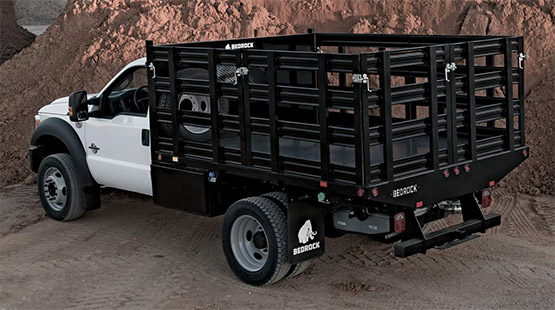 Limestone Series
Available lengths 9'3" – 10' – 12' – 14' – 16'
42" high squared commercial bulkhead with window cutouts
3/8" external rub rail with stake pockets
Glossy polyester powder coat
1/8" diamond-plate deck with 6" runners and 3" channels
DOT-approved LED lighting
Bed Options:
60" bulkhead
3/16" diamond-plate deck
Smooth-plate deck